After a long early run on streaming retailers, Indiana Jones and the Dial of Destiny rides off for fortune and glory on 4K UHD and Blu-ray
While we diligently get our listings built and hunt down those pre-order links, I wanted to get this news out ASAP for the fans looking to complete their collection of Harrison Ford's famous swashbuckling archeologist. While I lament Disney only using BD-66 discs, UPDAT - we have confirmed that the 4K will be rocking BD-100 discs now -I am excited to see Atmos audio in the mix but also a John Williams Score-Only Atmos track as well! We haven't heard the final HDR grade, but have made inquiries to that point. Once our listings are built we'll update this article and hopefully have some pre-order links ready for you too.
Here's the full press release:
ON DECEMBER 5, THE FINAL ADVENTURE COMES HOME!
INDIANA JONES AND THE DIAL OF DESTINY ARRIVES ON 4K,
BLU-RAY & DVD WITH OVER 2 HOURS OF EXTRA CONTENT!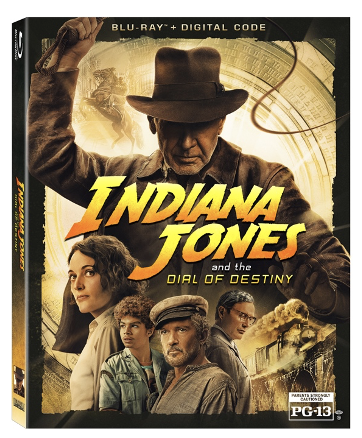 Lucasfilm's Indiana Jones and The Dial of Destiny
Comes To Physical Media December 5 with bonus features
including an exclusive new score-only version of the movie!

Also Available: Exclusive Best Buy SteelBook® Design
and a Walmart Exclusive Including Enamel Pin
BURBANK, CA (October 10, 2023) – From Academy Award®–nominated writer-director James Mangold (Logan, Walk the Line) comes the final chapter in the saga of one of cinema's greatest heroes. Indiana Jones and the Dial of Destiny sees Harrison Ford reprise his iconic role as the whip-smart archaeologist one last time for a "rip-roaring adventure" (Maureen Lenker, Entertainment Weekly) full of "exciting action, wonderful banter and fantastic twists and turns" (Germain Lussier, io9).

The 4K and Blu-ray are loaded with incredible bonus content including five chapters that chart the making of Indiana Jones and the Dial of Destiny. Join the cast and crew on an epic, globe-trotting adventure that showcases new characters, stunts, music, locations, production design and visual effects whilst also bidding a fond farewell to one of cinema's greatest heroes. Fans of Academy Award®-winner John Williams will be delighted to learn that there is a new, exclusive "score-only" version of the movie allowing viewers to listen to the composer's iconic music on an isolated track as they watch the film.

Additionally, collectors can find a limited-edition SteelBook® design only at Best Buy.

Walmart will also offer an exclusive 4K Ultra HD edition with custom artwork and a limited-edition enamel pin.

Film Synopsis
Harrison Ford returns to the role of the legendary hero archaeologist for this highly anticipated final installment of the iconic franchise-- a big, globe-trotting, rip-roaring cinematic adventure. Starring alongside Ford are Phoebe Waller-Bridge ("Fleabag"), Antonio Banderas (Puss in Boots: The Last Wish), John Rhys-Davies (Raiders of the Lost Ark), Shaunette Renée Wilson (Black Panther), Thomas Kretschmann (Das Boot), Toby Jones (Tinker Tailor Soldier Spy), Boyd Holbrook (Logan), Olivier Richters (Black Widow), Mads Mikkelsen (Doctor Strange) and newcomer Ethann Isidore. Directed by James Mangold (Logan, Walk the Line) and written by Jez Butterworth & John-Henry Butterworth and David Koepp and James Mangold, based on characters created by George Lucas and Philip Kaufman, the film is produced by Kathleen Kennedy, Frank Marshall and Simon Emanuel, with Steven Spielberg and George Lucas serving as executive producers. John Williams, who has scored each Indy adventure since the original Raiders of the Lost Ark in 1981, has returned once again to compose the score.

Bonus Features
The Making of Indiana Jones and The Dial of Destiny
Chapter 1 – Prologue – Harrison Ford leaps back into action as Indiana Jones! Journey to 1944 as this featurette reveals the filmmakers, characters, stunts, locations, and incredible visual effects that make up the thrilling opening of Dial of Destiny!
Chapter 2 – New York – Blast off to adventure as James Mangold showcases the re-creation of 1969 Manhattan for the Moon Parade chase. This featurette spotlights Helena (Phoebe Waller-Bridge) as John Williams conducts his beautiful new theme for this compelling character.
Chapter 3 – Morocco – The man in the hat is back! Explore Morocco as this featurette breaks down the white-knuckle stunts of the medina tuk-tuk chase and hotel brawl. Meet Teddy (Ethann Isidore), Indy's precocious new ally in the hunt for the dial!
Chapter 4 – Sicily – Meet Renaldo (Antonio Banderas) as he guides our heroes on a perilous underwater treasure hunt! Catch up with Harrison Ford and Phoebe Waller-Bridge on location in Sicily and explore the caverns, traps, and bugs surrounding Archimedes' tomb!
Chapter 5 – Finale – This featurette breaks down the thrilling climax to the Indiana Jones series. Cast and filmmakers James Mangold, Kathleen Kennedy, Frank Marshall, John Williams, Steven Spielberg, and Harrison Ford bid farewell to one of the greatest heroes of all time.

Score Only Version of the Movie
Listen to John Williams' iconic music on an isolated track as you watch the film.

*bonus features vary by product and retailer
Cast
Harrison Ford
as Indiana Jones
Phoebe Waller-Bridge
as Helena Shaw
Antonio Banderas
as Renaldo
John Rhys-Davies
as Sallah
Shaunette Renée Wilson
as Mason
Thomas Kretschmann
as Colonel Weber
Toby Jones
as Basil Shaw
Boyd Holbrook
as Klaber
Olivier Richters
as Hauke
Ethann Isidore
as Teddy Kumar
Mads Mikkelsen
as Dr. Jürgen Voller
Directed by
James Mangold
Written by
Jez Butterworth & John-Henry Butterworth and David Koepp and James Mangold
Produced by
Kathleen Kennedy, Frank Marshall, Simon Emanuel
Executive Produced by
Steven Spielberg, George Lucas
Music by
John Williams
Product Specifications
Street Date
Physical
: December 5, 2023
Product SKUs
Physical
:
National: 4K UHD, Blu-ray, DVD
Retail Exclusives
:
Best Buy Exclusive Steelbook® (4K UHD + Blu-ray + Digital Code)
Walmart Exclusive w/ Enamel Pin (4K UHD + Blu-ray + Digital Code)
Feature Run Time
Approx. 154 minutes
Rating
U.S. Rated PG-13
Aspect Ratio
Digital
: 2.39:1
Physical
: 2.39:1
Disc Size
4K UHD
: 100GB
Blu-ray
: 50GB
DVD
: 8.5GB
U.S. Audio
4K Ultra HD
: English Dolby Atmos and 2.0 Dolby Digital Descriptive Audio, Spanish 7.1 Dolby Digital Plus, French 5.1 Dolby Digital
Blu-ray
: English 7.1 DTS-HDMA and 2.0 Dolby Digital Descriptive Audio, Spanish and French 5.1 Dolby Digital
DVD
: English, Spanish and French 5.1 Dolby Digital, English 2.0 Descriptive Audio
U.S. Audio (for the score-only version of the movie)
4K Ultra HD
: 7.1.4 Dolby Atmos
Blu-ray
: 7.1 Dolby Digital
DVD
: N/A
U.S. Subtitles
4K Ultra HD
: English SDH, Spanish, French
Blu-ray
: English SDH, Spanish, French
DVD
: English SDH, Spanish, French